Warning: this guide on how to write a blog is long, but I promise it won't actually take you forever to create posts, even with all the steps and tips I provide. All of the information here will help you learn how to write a blog post fast and teach you how to create more powerful content.
Have you ever stared at the computer, unsure of what you're going to write for your blog?
Do you start a week without knowing what will end up on your blog in the next seven days?
Does sudden blog inspiration strike while you're staring at a box of Cap'n Crunch in the grocery store, and you swear you'll remember it, but it's gone by the time you hit the checkout stand?
Some of your friends and family members may think blogging is just your little hobby, but you and I both know it's serious stuff and it takes A. TON. OF. WORK.
I have several posts on how to write a blog, but this is the mother of them all, the ultimate guide. So here it goes: here is how to write a blog from start to finish.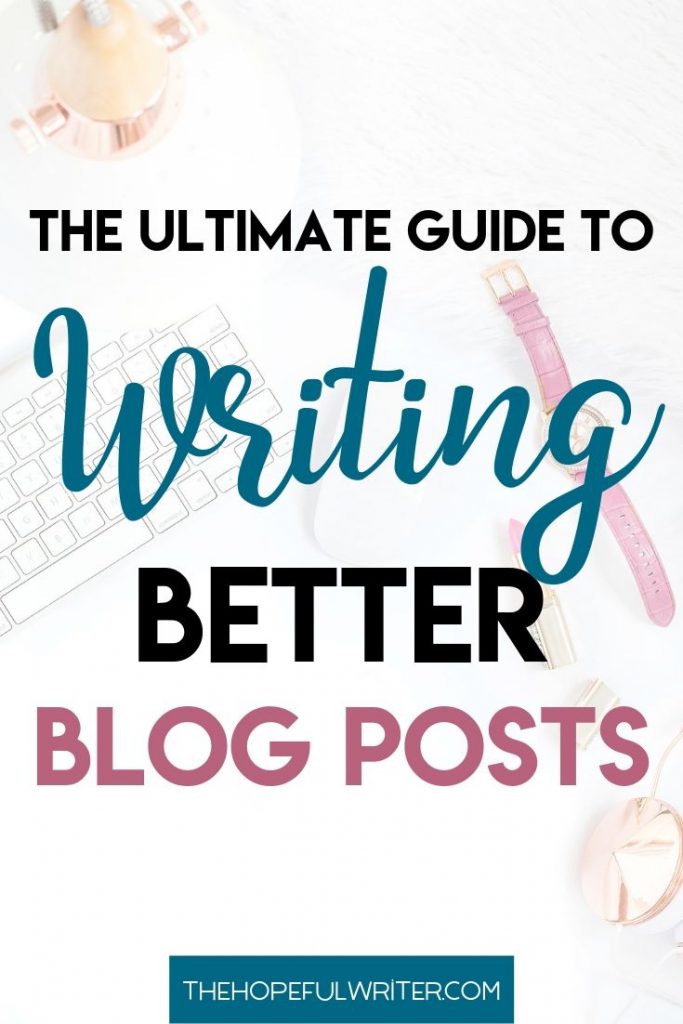 This post contains affiliate links, which means I could earn a small commission if you use the links. I only recommend a few items or services I love. See my complete disclosure.
Your blog ideas are precious. Don't let them go because you're in the shower or because you're excited that Almond Milk is on sale for $1.99.
Always write your ideas down in a place you'll find them again.
Here's a little secret about me: I'm naturally a hot mess. I can't count all the times I've locked my keys in my car (my husband has helped me ease up a bit in this department). I cannot keep track of combs for the life of me (we literally have like seven, and I can only find one).
But I've come up with processes to keep my hot mess from exploding (still haven't figured out how to keep track of combs though).
I always think I will remember my ideas with writing them down, but I hardly ever do. Now, I ALWAYS write my thoughts when inspiration strikes, whether it's in the notes app on my phone, in my brainstorming notebook, or on my computer. That's a lot of places to keep notes, but I like to have a place I can write down my ideas wherever I am.
When you get an idea, don't trust your memory: write it down. You'll be grateful later.
I use simple items, but I know some bloggers like to use Evernote to keep track of ideas.
Brainstorming Blog Post Ideas
Can you imagine never having to start a week scrambling to figure out what you're going to post on your blog? Brainstorming a big list of blog post ideas will keep your content well from drying up.
I'm an idea girl, so this is one of my favorite parts of writing my blog. My process was pretty willy-nilly at first, but now I use more thought and strategy to decide what to post each week.
I loved Molly Marshall's post on how she brainstormed 111 blog post ideas in one hour. I used her method although I didn't come up with 100 blog posts (I needed to go to bed), it helped me focus.
I definitely recommend reading the whole post, but one thing I loved the most was that she recommended to write down everything you sell or plan to sell in the next year. You want your free content to be high quality, but you also want it to lead your target audience to your products.
I also love the two questions Molly asks as she's brainstorming:
1.    What problem can I help people solve?
2.    Does this piece relate to the various products I sell?
Here are some more questions you can ask yourself to come up with blog post ideas:
What does my audience need?
What new information does my target audience need?
What would inspire, entertain, or educate my readers?
What questions can I answer for my target audience?
Next, look at old blog posts. Could you update any of them? Is there a section from an old blog post you could expound upon? For example, I recently wrote a post about pre-writing, which included information about brainstorming blog post ideas, brainstorming a single post, outlining, and researching. I could break this down and write a blog post about each of these topics (and I will, soon).
Could you combine blog posts to make an ultimate guide? That's what this post is. Your readers may like to have one place where they can find your main message.
I created a Blog Prep Packet to make your brainstorming and outline process a little easier. Sign up below to get your free download!
Before we talk about pre-writing, let's talk about how to format a blog post. It doesn't matter how engaging your writing is or how prepared you are if your post is all over the place.
Here's how a blog post should (usually) be formatted:
Catchy Headline
Engaging Intro
Main Points (as many as you need to make)
        Sub Points
Short conclusion
Call to Action
Here's more information on how to make the best of each section:
1. Create a Killer Headline
Have you heard that 80% of people will read your headline, but only 20% will click through to your blog post?
I confess that I'm naturally a bit of a boring headline writer, and I know I'm not the only one. These resources have helped me come up with more exciting headlines that have resulted in more visits to my blog:
CoSchedule has an amazing headline analyzer you can use for free! You'll have to provide your email, but I promise it's worth it. Try to get a score of 70 or above!
I love using headline formulas. There are so many wonderful resources that I'll send you to my Pinterest "Blog Headline" board so you can find your favorite.
I write a working headline at the top of my draft, but the headline I actually go with is one of the last things I create before I publish my blog post. Lately, I've created at least two headlines so I can make more pins on Pinterest.
2. Write a Strong Introduction
According to this article from Neil Patel, 10% of readers never even scroll down after clicking on your page.
An introduction doesn't give you a lot of time to hook readers, but you can see how important it is. It might be the only way to convince people they need to keep reading the rest of your post.
Quickly get to the point of your message, but try to do it in an intriguing way.
I love a good story to pull me into a blog post but try to avoid anecdotes that don't pertain to your message. Have you ever read a blog post that tells a random story and you wonder, "What was the point of that?"
I tend to start my blog posts with questions, but I also like to engage with my reader. I try to imagine what they might go through and describe a potential situation.
Another excellent way to suck your readers in is with statistics or other intriguing information they may not have known.
3. Write a Hearty Main Section
If people are still reading by the time they reach your first headline, congratulations! Now it's time to provide super helpful information.
When I read blog posts, I tend to look at the headlines, skim some of the content, and then decide if I really want to read it. I bet a lot of people "read" just like I do. We're all so busy that we want to make sure something is really good before we invest our time in reading it.
Create headlines that will entice people to read what's below them.
Break up your text with bullet points, short sections, relevant images, graphs, or infographics to make reading easier. Bold the most important information so readers notice it (but for heaven's sake, don't overdo it).
Check out this post for simple tips on how to write more engaging blog content!
4. End with a Short Conclusion and Call to Action
Nobody is grading you on whether you reiterated all the points from your blog post in your conclusion. Don't worry about repeating everything you said; just rehash the most important point of your post or wrap up the topic in an appropriate way.
Your call-to-action is the most important part of the conclusion. Sometimes it may be difficult to come up with a call-to-action, but you can keep it simple. I love to simply see invitations to comment or check out a social media page.
If you have a free download or printable to offer, this is a great place for it.
Confession: I was tempted to not brainstorm, outline, or research this post. How hypocritical is that? I wanted to write it quickly, plus I'm still recovering from my natural tendency to write without preparing.
But then I remembered how I've pretty much started believing that brainstorming and outlining can save the world. I think it's probably the answer to everything.
In all seriousness, I remembered that in this blog post I had said that writing is so much easier and quicker when you prepare ahead of time. It's also higher quality because it's not just thrown together.
It may seem like a hassle, but I promise that preparing ahead of time will improve your writing and speed up the process, too.
My brainstorming and outlining processes are so intertwined that I decided to combine them into one step. Here's how I start:
Write down a working title (this absolutely will change)
Write all of the points I want to make
Add any ideas or information I don't want to forget
After this, I go back to the top and add information to each of the sections, as well as sub-points. If I need to research, I scour the internet for reliable sources and copy and paste the best information I find under the relevant section of my outline.
Sometimes I write full paragraphs during my pre-writing stage because I have a point that I don't want to forget. However, I try not to let myself keep going because I want to be more prepared before I fully dive into the writing process.
When you brainstorm, outline, and research, here are the awesome things that will happen:
You can crank out content much quicker
Your posts will be higher quality
You'll answer more of your audience's questions
The editing process will be shorter and easier
It's time to write your draft! All the work you did in the pre-writing stage will make the actual writing stage so much quicker. Sometimes I'm surprised by how short this stage is because of all the work I did ahead of time.
Here are some tips to help you write great blog drafts:
I'm working on becoming a keyword genius, but I'm not quite there yet. I used them as a freelance writer and if I missed one, it was a big deal! Check out the free email course from Mike Pearson of Stupid Simple SEO (the page says the course is closed, but just put your email in the space below to get the free course).
Keywords are the words or phrases people use to find your content. They're not always what you think, so be sure to install Keywords Everywhere to discover what your target audience is searching.
Place keywords in the following areas of your blog post:
Headline
The first paragraph
At least one heading
Somewhere in the middle
Conclusion
Try not to sound like a machine, though. You shouldn't have trouble making keywords sound natural if they match what your post is all about; sometimes you may need to rephrase how you say something to make it SEO friendly. If you have to make a choice, though, choose to write for your audience, not Google.
You can leave the "ums" and "likes" for your daily ramblings, but try to make your blog posts sound conversational.
Unless your target audience is Congress or a group of mechanical engineers, your readers will appreciate posts that showcase your personality.
A lot of people get stuck while writing because they think they have to sound like someone they're not. When you make the decision to write how you speak, that can take a lot of pressure off of you. And guess what? It will make your writing better.
When I edit documents for my friends or family members, I notice they often write a lot more formally than they need to. Once I give them the advice to write how they talk, their writing sounds more natural and is much easier to read.
Just Write the First Draft
Try to write and don't look back until you're finished! This can be so hard to do, but writing your first draft quickly will help you get all of your ideas out.
Your first draft may be really messy, but that's okay! Even great writers can have terrible first drafts. The beauty of writing is you can always fix it later.
There are SO. MANY. BLOGGERS. What is the one thing that sets you apart from the thousands of other people writing online?
It's your voice, your personality.
There are a few bloggers I love to follow. A few of them blog about food, but they're completely different from each other. If they wrote the same way or posted the same type of social media content, I'd get bored.
Don't try to sound the same way other bloggers in your niche sound because that's how you think you should sound. Show your readers who YOU are and you'll find the people who love you for it.
One of my favorite writing tips is to "tell more with less."
Of course, you want your content to be helpful for your readers, but that doesn't mean you need to add irrelevant stories just to make your blog post longer.
Be sure that everything you write in your post has a purpose. Is it working to help readers understand your overall message?
Write with Your Audience In Mind
When you write, try to think about the people who will be reading your content. Consider how you want them to react to your post.
Imagine that they don't know anything about your topic and then help them to understand.
I say this in most of my posts because I think it's so important: try to write content that inspires, entertains, or helps your audience. It's pointless to publish a blog post just to have more content on your website if it isn't helping anyone.
Be sure that the things you write serve your target audience.
Taking all this time to create a great blog post and then failing to edit would be a shame. Even if you think you probably don't have errors, you probably do. And you DON'T have to be a professional proofreader to catch them.
Most of the errors I've found when editing for my friends or family are things they could have caught themselves, like typos, misspelled words, etc. Even if you don't feel like a great writer, you'll be able to clean up your content by getting rid of those small, yet annoying mistakes.
Here are the basic steps to take to edit your blog post (this post goes into more detail about how to edit your own blog post):
Step 1: Make Bigger Edits
Move paragraphs that would be better placed somewhere else. Delete stories or sections that don't contribute to the overall purpose of your post.
Step 2: Check for repetitions and unnecessary words
I tend to repeat myself a lot, so this is where I spend most of my time editing. Look for thoughts you may have repeated, as well as unnecessary words.
You probably have words you tend to use that aren't essential to your writing. For me, it's "just," "actually," "will," and more. Even though I know I don't need to use them as much as I do, it's like I try to hide them in my content until Grammarly tells me they're not necessary. Then I begrudgingly delete them because I know there's no place for them.
Step 3: Nix typos, misspelled words, and other small, yet important problems
I see these kinds of errors A LOT in blog posts. Although they're not a big deal, it can mean the difference between appearing to be professional or amateur.
I'm sure you've received a spam email a time or two. How do you know it's spam?
Other than the fact that spammers often have weird email addresses, bad grammar and punctuation are a dead giveaway that an email isn't legitimate.
You may think people won't notice or care about grammar and punctuation, but it contributes to the power and professionalism of your post. If your writing is littered with careless errors, it becomes too hard to read. People don't have to read your content, so they'll click away.
You don't have to be a perfect writer. People will be forgiving. But you should do the best you can, and the best you can is not misspelled words every other sentence.
(Full disclosure: my family members and I have found typos and missing words in my published content, so it happens to me too!)
Step 4: Use Grammarly and another pair of eyes, if possible
Grammarly is a free grammar checker that will help you edit your blog posts. It also has a paid option that provides more help with improving the style of your content. 
I use the premium version of Grammarly (if you sign up for the free version, they regularly offer amazing deals for premium).
I love having the premium version because it provides stylistic edits and tells me words I repeat too often. However, not every edit that Grammarly provides is correct, so be careful to not accept every single edit. I've found that most of them are and it's been very helpful to me. You can read all about Grammarly in this post to know why you should use it and how to be successful with it.
I actually use Grammarly starting at about step 2, but how you use it will depend on whether you choose to sign up for the free version or the premium version.
(P.S. I am now an affiliate with Grammarly, but I originally wrote this before I became an affiliate. I really love using it and won't publish a blog post without running it through Grammarly.)
Step 5: Edit Your Headline
You may already have a working title, but this is actually the point where I work hard to find an attention-grabbing headline. I choose at least two so that I can create pins with different headlines, but I choose the most SEO-friendly title for my "official" headline. See the headline section above for more headline ideas!
Now your post is ready to share with the world. Create some images and check your vulnerability at the door.
This process may seem really long, but I promise it won't take an extreme amount of time unless you write a really long post (like this one) or you drag your feet.
I try not to spend a lot of time on any of these steps, and I only do if I'm being OCD about something (like picking the perfect headline). Editing typically takes me less than half an hour, sometimes just 15 minutes or less, but the result is worth the time.
Let me know how these steps help you write your blog post! And if you do things differently, I'd love to hear about it. 
Sign up for my free 5-day email course to dig deeper into how to improve your blog writing!