Welcome to The Hopeful Writer! I'm Mandy, a writer, a wife, a mom, and many other things. I'm so happy you're here.
I started writing when I was a little kid and haven't stopped ever since. My friends and family all know I'm a writer, so they come to me with their story or blog ideas all the time, or ask for my help to edit their essays, emails, or other type of document.
One thing I've noticed is that when people tell me an idea for a novel or a blog that would be awesome, they act like it isn't possible for them to actually do it. I started The Hopeful Writer for people like that, people who have these ideas, but think they couldn't possibly be the ones to bring them about.
Here's the truth: anybody can learn to write well with a little bit of education and practice. I created The Hopeful Writer to help educate non-writers to become better blog writers, fiction writers, or just email writers. 🙂
Here are a few more things to know about me:
I earned a BA in English with an emphasis in Creative Writing from Brigham Young University-Idaho. College was so fun for me, but it also taught me you really don't have to study English to become a good writer.
After college, I had the most amazing internship at LDS Living Magazine, but because of their small staff, that couldn't turn into a full-time gig. I moved on to FamilySearch, where I continued to work for almost four years.
During that time, I also worked as a freelance writer for a digital marketing company. I quit FamilySearch to be a stay-at-home-mom to my daughter and continued writing for various digital marketing companies.
Honestly, I didn't love freelance writing the way I did it. I worked as a contractor for digital marketing companies and wrote everything they wanted me to rather than seeking my own writing projects in a niche I chose. However, the time gave me a lot of great writing experience and taught me about working on my own.
My husband, James, and I have been married about 4 1/2 years, though that doesn't seem like a very long time. James and I met at church in Salt Lake City. I had spoken in a meeting on Mother's Day, and he and his mom had sung together. I hadn't paid attention to him because I was so nervous about speaking, but then his mom came up to me after the service and said she'd told her son and nephew that one of them should date me, mostly because of how awesome my mom was (she had been the topic of my talk).
For the next five months, we occasionally chatted in the halls between classes, and apparently, James and his cousin tried to follow me home once (creepy! But they were following the wrong car). I'd always thought he was a good dresser, and I was impressed that he had a college degree, but it wasn't until he was at my house for an activity that I started to see him differently. That week, James asked me out on a date, and then things progressed quickly. He even came to Colorado to meet my family just two weeks after we'd started dating. We were married in the summer of 2014, nine months after our first date.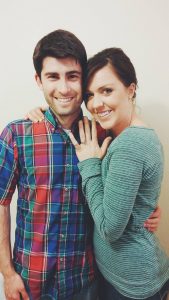 We have two adorable kids. Our daughter Haven was born the year after we were married, and our son Jack is two years younger than her. They both have adorable chunky cheeks and my husband's cute round nose. Jack is a bit easier going than Haven, but they can both have a classic freak out that makes the hair on my neck stand up. Haven has mastered a British accent (thank you, Peppa Pig) and Jack is starting to request random food as he walks around the kitchen.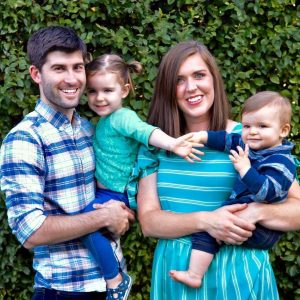 Thanks for being here! If you ever have any questions, contact me at mandy@thehopefulwriter.com. I'd love to hear from you!