You've probably heard of Grammarly and wondered if it's the best online grammar checker you could use for your blog, business, or personal writing.
My goal is to provide you with everything you need to know about Grammarly, all the good and even sometimes frustrating. I'll include tips for using it and the best practices to make it work for you as much as possible.
I have the premium version of Grammarly and signed up as an affiliate because I love the program, but it's not a perfect tool. However, if you approach Grammarly like it's your awesome uncle who you love and respect, but you know he embellishes his stories a bit, it is super helpful. (We all have that relative, right?) I won't post on social media, write an email, or publish a blog post without running it through Grammarly first.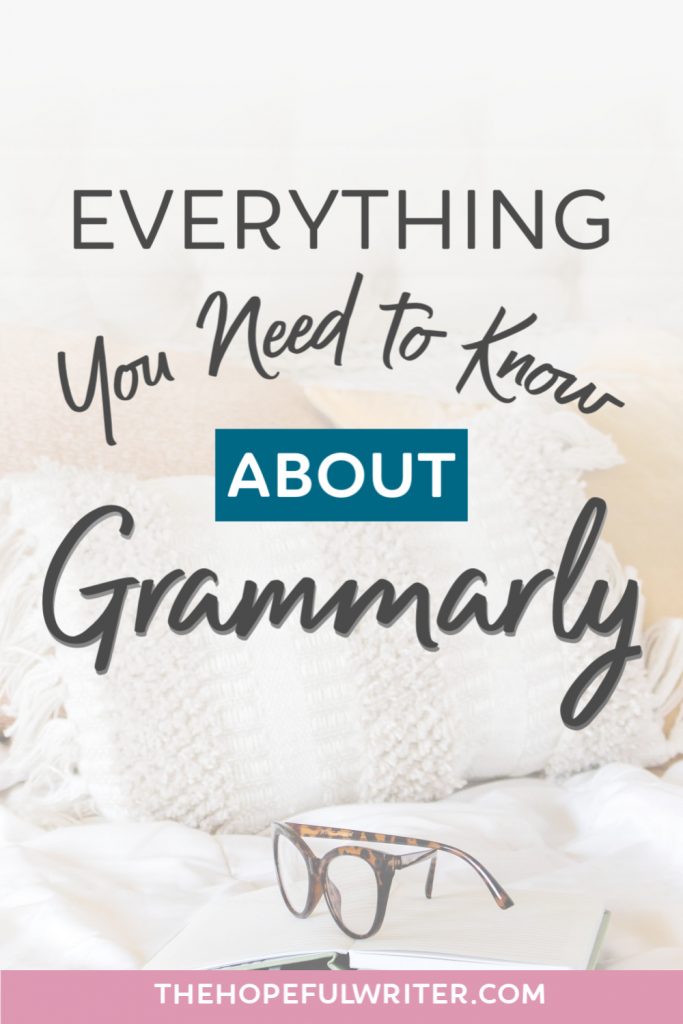 This post contains affiliate links, which means I could earn a small commission if you use the links. I only recommend a few items or services I love. See my complete disclosure.
You may already know, but just in case you don't, Grammarly is an online spelling, grammar, and plagiarism checker. Users get different features depending on whether they use the free or premium version.
You can use Grammarly as an app that you download onto your computer, as well as a browser extension. Be aware that the browser extension doesn't work for every site. It works for emails, Facebook posts, and other areas where I write and would rather avoid typos or other embarrassing mistakes. Check out this post for more information about how this tool works.
Who Should Use Grammarly?
Grammarly would be useful to anyone who has to write, so basically everyone. 😉 But the following groups of people would especially benefit from this awesome grammar-checking app:
Bloggers

Freelance writers

Authors

Business owners

Employees

Students
So yeah, basically everyone still. Grammarly can help you write clean, concise content all the time, which makes everything you write a little more powerful. That doesn't mean you can't show your personality. If Grammarly is trying to edit out your conversational tone, press the trash icon. But if it's letting you know that you repeated the word "so" ten times, fix your writing, and you'll look a little more refined.
This was my husband's first question when I suggested he sign up for Grammarly. The answer is yes! Grammarly is a free spell-checker, proofreader, and writing assistant, with a premium, paid option that provides additional benefits.
Free vs. Premium Version of Grammarly
What's the difference between the free version and the premium version of Grammarly?
Grammarly says it best with this graphic:
The free version helps you catch spelling and punctuation errors, but the paid version helps more with things like repetition, voice, overused words, and more.
I would definitely recommend the premium version, especially if you're a blogger, editor, or student. However, don't feel like you have to start there. Try the free version of Grammarly for a while and see how you feel. It may be sufficient for you.
Is Grammarly Premium Worth It?
So is the premium version of Grammarly worth the investment? Definitely. Do I ignore some suggestions it provides? I sure do.
To be successful with Grammarly, you have to realize that some of what the software suggests won't be relevant. Occasionally, you'll need to press the little trash icon, but the help it provides is a lot more than the suggestions you'll pass on.
 I started out using the free version of Grammarly just last year. It was helpful, but I knew that with my specific writing weaknesses, I would benefit from the premium version.
I held off from getting the paid version for a while, but it was too hard for me to see that there were more suggestions to improve my content that weren't open to me yet. When I received an offer for a discount on the premium version (they send a lot of those), I took the leap and purchased it.
There's no straightforward way to get a Grammarly Premium trial, but this post offers some guidelines for a workaround to be able to get one. (Full disclosure: I didn't get a free trial of Grammarly Premium, so I didn't use these tips and can't guarantee they'll work.)
Grammarly sends a lot of promotions and deals, so if you want a Grammarly Premium discount, you'll probably find offers in your inbox regularly.
What's Good About Grammarly?
Grammarly is an excellent tool because it catches what we're sometimes blind to.
The other day, I was getting my kids ready to go somewhere. My three-year-old daughter cocked her head to the side and said, "So, um, can I bring my phone or something?" (She was talking about a toy phone, don't worry.) I cracked up because I knew she had no idea why she was saying "So" and "or something."
I shared this little story with my family, and my mom pointed out that I start a lot of my sentences with "So." I didn't even realize this, but after my mom had mentioned it, I noticed that I started the next thousand sentences with "so."
We often say things we may not realize, and we do the same thing in our writing. I tend to repeat the words "just," "very," and way too many more words, and I don't even realize it until Grammarly gives me a bunch of red lines.
If we had a three-year-old repeating all the things we write over and over again, maybe we'd avoid them, but three-year-old's can't read, so we need Grammarly. 😉 
Tips for Success with Grammarly
I recommend a few tips to make sure you're successful with Grammarly.
Don't Accept Every Single Edit
Grammarly is a computer software program, not a human. Sometimes it doesn't take things into context and provides edits that aren't applicable or correct. I'd say this is the exception rather than the rule, though.
Some people say you don't need to worry about grammar in your writing, but that's crazy. Grammar helps you convey a more powerful, persuasive message, whether you're writing an email to someone who needs to pay you, you're writing a blog post, or crafting a cover letter for your dream job. However, don't let grammar edit your personality out of your writing.
Sometimes I add embellishments to my writing that aren't necessary, but they sound like me. Grammarly will edit some conversational text, but keep the stuff that makes you sound authentic!
You can use proper grammar without sounding like a machine.
Read Your Content After Using Grammarly

I recommend always reading your content before pushing send or publish, whether you use Grammarly or not.
My process is typically to plug my content into Grammarly after I've written it, then do my own edit. However, I recently edited some content for a client that needed a lot of work. It was easier to do my edit before using Grammarly.
If you think your writing needs extensive editing, check it out first and fix what you know how to (this is probably more than you think). Then when you put it through Grammarly and make some more edits, be sure to reread it before pushing publish. Again, this is a software, not a human, so it won't catch everything. 
Don't Use Grammarly Instead of a Human Editor for a Big Project
If you have a manuscript you're hoping to publish or a thesis or something equally as important and monumental, use a professional editor. I would suggest using Grammarly before sending your masterpiece to an editor, but that's definitely not the end of the road. You want your manuscript to be as tight as possible before sending out those query letters!
A Grammarly edit, along with a self-edit, is usually sufficient for emails and blog posts. However, if you think your content might need some extra TLC, let me know. I edit blog posts, articles, emails, and other content to create clean copy, but also to help writers prevent repeating the same mistakes in future projects. 
Don't Be Scared to Use Grammarly
I met with a potential client and mentioned that I had run his sample chapter through Grammarly. He told me he had been too scared to use it and see all of his mistakes.
Are you inadvertently doing the same thing? I know I avoid criticism or judgment at times, but Grammarly is a judgment-free zone, mostly because it's not a human. It's the BEST place to start.
Don't be scared of all the red and yellow lines you may get; feel empowered that you're creating the best writing you possibly can.
Grammarly offers the following ways to use their tool:
They also provide several resources to help improve your grammar:
I studied English and have written hundreds of pages of content. Why do I need to use Grammarly? 
Well, this probably isn't news: I'm not perfect in every aspect of this complicated language. I'm flawed, just like everybody is, including other writers or grammar lovers.
Sometimes I try to pound it down so fast on the keyboard that I may think a word, but I don't actually write it out. I write words like "very" or "just" way too often, and they're not necessary.
Grammarly helps me with the little (but important) things like word repetition, overused words, typos, missing words, etc.
Whew, I hope I covered it all for you. Bottom line: go sign up for Grammarly today! If you have any questions or thoughts, please comment below or contact me! I'd love to help.
If your writing is a little stale, and you need some more help, look no further. I got you! Sign up for this free 5-day email course to learn practical and fresh writing tips that'll help you sound like a pro fast.